Impressive villas for sale in Finestrat, a natural and exclusive location between sea and mountains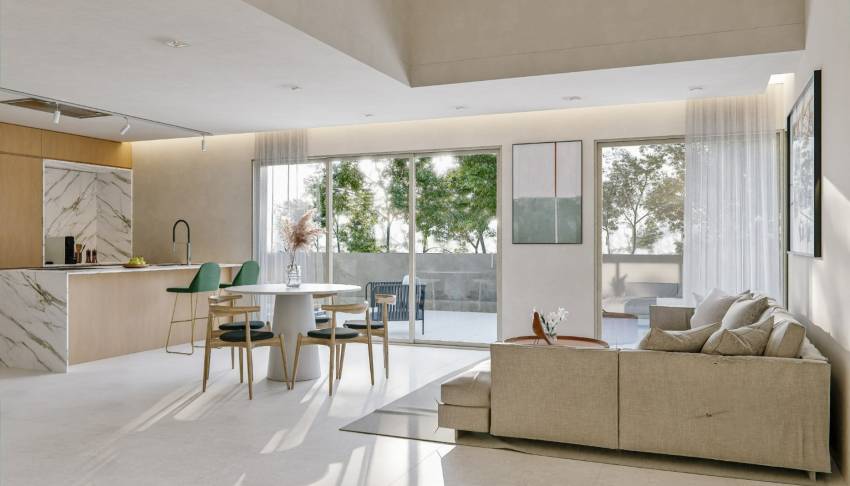 14 Oct
In Costa Blanca you will find modern properties and luxury developments, but none like our villas for sale in Finestrat, specifically in Sierra Cortina, an exclusive residential complex with a privileged location : between sea and mountains, near Benidorm and surrounded by nature. In our premium properties you will live in continuous harmony with the environment and in an unbeatable space for rest combined with activities of all kinds:
Physical exercise in the fitness room of the Private Club
Beauty treatment and massages
Water sports on the idyllic beaches of the nearby town of Benidorm
Play golf at one of the three golf clubs in Finestrat
Savor authentic Mediterranean cuisine at the Rice Restaurant
Go shopping in nearby malls
Although without a doubt, the best kept treasure of our modern homes are their panoramic views of the sea and the skyscrapers of Benidorm. If you are looking for the best start to your new stage in the heart of the Mediterranean, explore our new developments of properties for sale in Finestrat surrounded by green areas and with beautiful views.
Throw yourself into Mediterranean life in one of our new-build villas for sale in Finestrat, an authentic and luxurious paradise impossible to renounce
Adopting a Mediterranean lifestyle through one of our villas for sale in Finestrat will bring you numerous privileges : many hours of sunshine, delicious and healthy cuisine, easy access to virgin beaches and coves and various relaxing and leisure activities. If you dream of a similar way of life, at IKONIC LIVING we offer you an attractive catalog of new developments of villas for sale in Sierra Cortina that boasts:
Luxury residential with sea and mountain views
Detached villas with avant-garde design and first-class interiors
Innovative features : electrical appliances, intercom, smoke outlet, air conditioning….
Large outdoor areas : porch, terrace, solarium, garden, swimming pool...
Our elegant houses in Sierra Cortina Resort have several models to choose from and are perfectly integrated into the natural environment. You have at your disposal different types of homes adapted to the tastes and needs of each client and designed to offer the best rest, security, privacy and comfort to their future owners .
Buying one of our luxurious villas for sale in Finestrat is an investment in quality of life
All our newly built villas for sale in Finestrat meet the highest standards and are located in the best environment to improve your quality of life. Sunny weather, idyllic beaches, privileged golf courses... Any reason is good to enjoy our impressive villas for sale in Finestrat.
Also, we provide you with a safe and exclusive shopping experience through a complete package of services. Click here to be surprised as you discover more. Do you want to know us or get more information about our properties in Finestrat?
Share